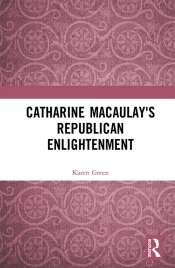 Catharine Macaulay (1731–91), a celebrated historian in England, was acquainted with leading political figures and intellectuals in Britain, America, and France. American revolutionaries were influenced by her republican principles, and the feminist pioneer Mary Wollstonecraft was inspired by her views. Today she is a largely forgotten figure, at most a footnote in histories of the period and not regarded as significant enough to be included in the Enlightenment pantheon among the luminaries she supported or criticised. Melbourne philosopher Karen Green claims that the neglect of Macaulay is not only an injustice to a historian and philosopher whose works deserve attention. She regards her as an important advocate of a form of Enlightenment thought that cannot be reduced to an apology for the possessive individualism of capitalist society.
Like other Enlightenment thinkers, Macaulay believed in reason and progress. Her views were premised on a belief in a benevolent Christian God who created humans as social as well as rational beings. Like John Locke, Macaulay believed that God endows all humans with natural rights. Reason, she argued, tells us that a good life for humans is a virtuous life. Her republicanism is a corollary of her moral philosophy. A political society ought to protect natural rights and encourage its citizens to be virtuous, and this is only likely if it is a republic governed by a parliament that truly represents the people. A republic, in her view, is not necessarily a political society without a monarch. It is one in which no one is able to claim special privileges or to use political power to oppress others.
From her republican perspective, Macaulay assessed the events of English history in her eight-volume History of England (1763–83). She approved of the deposition of Charles I and defended the Levellers of the English Revolution, but castigated Oliver Cromwell for undermining its progressive potential. She thought that the 'Glorious Revolution' of 1688 was mainly an attempt by leading nobles to retain power. Her criticism of taxation without representation was enthusiastically taken up by American rebels. Though she was celebrated for her history, she also wrote a treatise on moral philosophy, tackling difficult philosophical topics like free will. Her work on education supported her belief in progress by arguing that the failure of people to be rational could be overcome by a good education.
One of the most remarkable facts about Macaulay was that she managed to forge a reputation as an intellectual at a time when it was not common for women to become participants in public life. She left no letters or diary to cast a light on how she acquired the ambition to become a historian and philosopher. Green points out that she had access to the large library built up by her family, and supposes that she must have been aware of the writings of other women who had become authors and intellectuals. Macaulay lived at a time when it had become more acceptable for a woman to write for the public using her own name. She was also fortunate to marry two men who supported her.
She suffered a price for her fame, especially after her first husband died and left her vulnerable to innuendo. Her later marriage to a much younger man damaged her reputation and her book sales. After her death in 1791, it did not take long for her reputation to wane.
Radical reformers, Green points out, were no longer popular in the more conservative climate that followed the French Revolution. How much her gender had to do with her eclipse is difficult to know, but as Julia Gillard said in another context, gender doesn't explain everything, nor nothing.
How should we assess Macaulay's value as a moral and political thinker? Green admits that there is nothing especially original about her ideas. Macaulay was a synthesiser – she put together views that others expressed into a coherent philosophy. She can also be praised for consistency, a virtue that is less common and more laudable than many people think. She was not centrally concerned with the rights of women, and she had little to say about slavery. But she made it clear that any practice that denigrated people because of their gender or race, and denied them the rights God gave them, was not in accordance with reason. She insisted that virtue was inconsistent with cruelty to animals, and she did not subscribe to the nationalism of Thomas Paine or Edmund Burke because her idea of rights and virtue applied to everyone equally.
The sticking point for modern readers is the dependence of her philosophy on Christian theism. Green argues that most of what she says about reason, virtue, and rights can be translated into a secular idiom. We are, after all, social beings who depend on reason, even though we now have less confidence in its ability to tell us how to live and relate to one another.
Green crams a lot of details into her account of Macaulay's life and thought, and she assumes readers are familiar with the events and people of her time. But those who find themselves overwhelmed by Green's exhaustive account of Macaulay's social connections, politics, and travels, as well as of her writings and the responses of critics and supporters, should persist to the last chapter where she presents a sympathetic but critical assessment of Macaulay and her place in Western thought, and makes a good case for rescuing her from neglect.